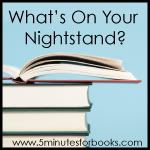 I love this idea that Jennifer at
5 Minutes for Books
has come up with...a
What's on your Nightstand
"tag" (is that what you call it? Or meme? Forgive me, I'm pretty new to blogging). I love finding out what people are truly reading rather than following the NY Times list or hoity-toity reviews by professionals.
So here's what I currently have on my nightstand.
1.
Lady of the Roses: A Novel of the War of the Roses
by Sandra Worth
I love historical novels, and especially those set in the royal court of England in Medieval and Renaissance times (my husband groans...I seem to always have one of these books around). I'm about halfway through this and it's pretty good. I didn't know too much about the war of the roses, York vs. Lancaster. I always wondered who and what the nearby towns of York and Lancaster in Pennsylvania were named after. It's an easy read and romantic, if that's your thing.
2.
It's a Boy! Women Writers on Raising Sons
by Andrea Buchanan
If you have read even one post on this blog, you'll know I just had a son in March (my first), and he is the center of my world. I saw this book on Amazon when I found out I was having a boy, and was a tad bummed because like many women, I was hoping for a girl (I have 4 brothers, no sisters, so I thought I'd escape from Matchbox cars and competitive farting for a while). In my attempt to imagine how it would be to be a mom to a boy, I found this book. I read one essay a night out of this and it's really fantastic! I love the funny stories and the very touching ones too. There is also a companion book,
It's a Girl
for those of you who have daughters.
I'd love to know what you're reading, so drop me a comment or head on over to
5 Minutes for Books
! To see some more of my faves, look for the Good Reads widget on my sidebar.