I'm in shock about the death of Karissa from Prissy Green. I liked her blog and her beliefs about natural beauty and eco-friendly products. While I didn't know Karissa very well, I did have her as one of my Friday Featured bloggers, ages ago when I was still running the feature. I fished through the archives and am reposting here, as a tribute to her. My heart goes out to her family and friends, and I hope they find comfort in the days and years to come.
At the end of this week of green cleaning posts, I thought it would be appropriate to feature another blog with a green slant,
Prissy Green
. I love reading Karissa's eco-friendly, homemade recipes for detergents and skin care items, as well as her finds on green products. I haven't found much about Karissa herself via
Prissy Green
, since it's not not quite a personal blog, so I admit I asked her to be the Friday Feature because I'm nosey (as many of you probably are too!). Here's a peek into Karissa's life...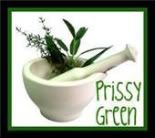 What is your blog about?
Lately it has been about a ton of giveaways, but I started it to be about recipes for home and skin care that you can make yourself, fairly easily. To always keep you updated with some of the best products on the market for a green organic lifestyle of a green goddess! To inform everyone about the cosmetic industry and what they don't tell you about the scary ingredients in products.
Where does your blog title come from?
Ha! My name is Karissa, and my nickname growing up was Krissy, I was a a very prissy 6 year old, well I was prissy until about 20 years old. So Prissy Krissy was born a very long time ago. When deciding on a name it just popped up.
When and why did you start your blog?
I want to eventually make and sell my own skincare line, and I decided people better get to know me online before I attempt this (which won't be anytime soon!) So I thought I would start a blog write about what I am passionate about, inform people about all the horrible ingredients we put on our bodies and kids everyday, then eventually open shop.
What would you like to add to your blog in the next year?
A dedicated portion to my greenhouse, or a portion to my Alpacas, I really don't see either happening since I don't see either in my future but a girl can dream can't she?
What are some of your favorite blogs?
First I have to apologize, I used to have a blog roll, but when I purchased my domain name, it erased it! eeek! so i need to catch back up and add everyone back.
The Good Human is wonderful, I am VIC (a very important Carrot) so I have to shout to
http://blog.yestocarrots.com
, The Alternative Consumer, Nap Warden aka Chronicles of SAHM, she makes me laugh, and Alpaca Farm Girl I know there are more but that is all I can think of...
What is one of your pet peeves about blogs or bloggers?
When they don't announce who won a contest. isn't that kinda shady?
My other pet peeve is when all they talk is about Green this and that, but they drive to starbucks every day, umm, HELLO?
What advice would you have for any new bloggers?
Go with Wordpress.
What is something that people might not know about you?
I am HUGE music fan. I one saw 37 shows by the same band in the same year. You can call me a hippie if you want, but I am more of a PrissyHippie. I really just love music. Not all of it but a whole lot it.
What green cleaning tips can you share with my readers?
I actually have quite a few homemade concoctions you can find under my labels to help save some green and green your life as well. Laundry soap as well as an automatic dishwasher recipe that is really easy. I also use vinegar for many things, and I have a fabric refresher recipe that I adore. Oh as for cleaning toilets? Borax and vinegar RULES!
Thank you Karissa for bringing green goodness into our lives. You will be missed.